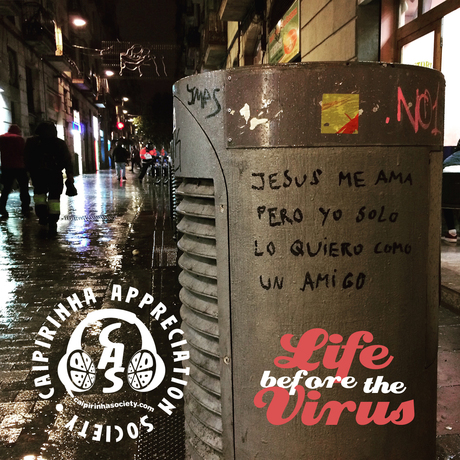 mangueira | são clemente | portela | filipe trielli | alaidenegão | zé cafofinho | novos baianos | dalila e originais do samba | jorge ben | erasmo carlos | douglas germano | ga setubal | pipo pegoraro | gatunas | karina buhr | pedro luis | ilessi | rogerman | elpeche | jessica caetano, guirraiz feat luisa e os alquimistas | fafa de belem rmx ubunto e dj zé pedro | olodum rmx lucio k | zaia ft. monkey jhayam | baianasystem | liniker
BEFORE THE VIRUS
This episode of the Caipirinha Appreciation Society podcast was recorded while carnival frenzy was still in the air. We bring it to you now to provide relief from the dominating topic of conversation and give us all something different to muse about. Stay safe and let some Brazilian joy flow into your ears. // Originally broadcast on 25/Feb/2020 on Contrabanda 91.4 FM.
ANTES DO VÍRUS
Essa edição do podcast do Caipirinha Appreciation Society foi gravada quando a folia ainda comia solta por aí. Publicamos agora para fugir um pouco do tema dominante e nos dar a chance de viajar em outras vibes. Cuidem-se e permitam-se esses momentos de escapismo à brasileira. // Transmitido originalmente em 25/Feb/2020 na Contrabanda 91.4 FM.