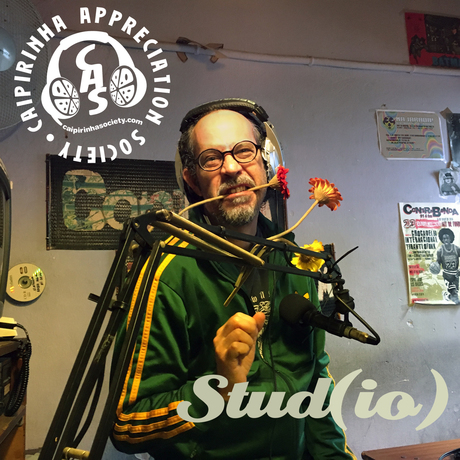 roberto de souza | gabi buarque | carol bezerra | sergio magalhães | mussa | toinho melodia | gilberto gil and friends | tomaz miranda | cristina buarque | kantaê | joana flor | johnny hooker | daúde | walter wanderley | zé ramalho | otto | gabriel oliveira | francisco, el hombre | kleber albuquerque | julio ferraz | sofia freire | samba de coco raízes de arcoverde rmx chico corrêa | quetzal guerrero and ryan wink | banda zuluz | mc tha | thaide | pó de ser emoriô | rael
BACK IN THE STUDIO
As lockdown rules are gradually relaxed in many countries, the Caipirinha Appreciation Society podcast is able to resume live broadcasts from Contrabanda FM's studios. Kika had to sit this one out for reasons beyond her control, but MdC Suingue brings you a classy playlist of Brazilian gems, old and new.
DE VOLTA AO ESTÚDIO
À medida que as regras do lockdown vão sendo relaxadas pelo mundo, o programa Caipirinha Appreciation Society pode enfim retomar as transmissões ao vivo no estúdio da rádio Contrabanda FM. Kika não pode comparecer por motivos de força maior, mas MdC Suingue garantiu uma playlist de joias raras do Brasil de ontem e de hoje.
Facebook: http://facebook.com/caipirinhasociety
Twitter: http://twitter.com/caipirinhacast
YouTube: http://youtube.com/c/caipirinhasociety
Apple Podcasts: bit.ly/CAS_ApplePodcasts
Google Podcasts: bit.ly/CAS_GooglePodcasts